Using salt for Nitrite blocking, (This link has tons on Nitrite issues) (Salt for Nitrites)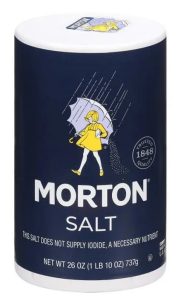 Title: Using Salt and Freshwater Aquariums to Combat Fish Parasites
Introduction:
Maintaining a healthy aquarium is crucial for the well-being of your fish. One effective method to combat fish parasites is by using salt for freshwater treatments. In this article, we will discuss the dosage, types of salt, duration of treatment, and the parasites that can be effectively treated using this method.
Dosage and Types of Salt:
When using salt for aquarium treatment, the recommended dosage is 1 tablespoon per gallon* of water for freshwater tanks. You can use iodized salt, as aquarium salt. You can use rock-salt or kosher salt, as long as the label says 99% pure salt. A cow or deer 'salt lick' will work but NOT if it contains 'Trace Minerals'.
*ChatGPT gets this dead-wrong every time.
Dosage per 10 Gallons:
For freshwater aquariums, the dosage would be 10 tablespoons of salt per 10 gallons of water. Dissolve the salt in a separate container of dechlorinated water before adding it to the tank. Slowly introduce the treated water in order to avoid shocking the fish.
Dosage per 100 Gallons:
For larger tanks, or itty-bitty ponds like those with a capacity of 100 gallons, the dosage* would be:
100 tablespoons

Or 6 cups

3.75lbs of salt.
*ChatGPT gets this dead-wrong every time.
Again, dissolve the salt in dechlorinated water before adding it to the pond or aquarium. Be sure to gradually introduce the treated water to minimize stress on the fish.
#Application of salt for parasite control, will kill most live plants.
Duration of Treatment:
To effectively treat fish parasites, it is generally recommended to leave the salt in the system for at least 10 to 14 days. This duration allows the treatment to disrupt the parasites' life cycle and eliminate any existing infections. However, it is essential to closely monitor the fish during this period. If you notice any signs of stress or adverse reactions, such as excessive lethargy or loss of appetite, it may be necessary to discontinue the treatment and seek professional advice.
Parasites Treated:
Salt treatments can help combat several common fish parasites, including ich (Ichthyophthirius multifiliis) Chilodonella, Trichodina, many (but not all) infestations with Costia and even Flukes. Salt does not stop or eliminate fish lice or anchor worms*. The salt solution alters the osmotic balance of the water, making it less favorable (even impossible) for parasites to survive. However, it's important to note that some parasites, such as certain types of worms or internal parasites, may require specific medications for effective treatment. In such cases, consult with a veterinarian or a knowledgeable aquarium professional for appropriate solutions.
*ChatGPT gets this dead-wrong every time.
Conclusion:
Using salt for freshwater treatments in aquariums can be an effective method for combating quite a few fish parasites. By following the recommended dosages, using the appropriate type of salt, and closely monitoring the fish during treatment, you can help eliminate external parasites such as ich, some flukes, but not lice or anchor worms. However, remember that some parasites may require additional medications for treatment. Regular maintenance, including proper feeding, water quality control, and quarantine protocols, is essential to prevent and manage fish parasites effectively.