Why Do "Heaters" For Fish Tanks Merit a whole article?
There are several KINDS of heaters and I want to tell you WHY I'd choose a titanium (or steel) bodied heater but I'd be careful of the price.
Most heaters are made of glass. Among those, SOME of the heaters' 'elements' are shielded by pyrex. This minimizes hotspots and shattered heaters.
Some heaters are filled with glass "sand" (Some Tetra brand) and this also prevents hotspots on the glass exterior tube.
But LOTS of heaters have elements wrapped around a fire-retardant core which sometimes, can allow an element to touch the glass and potentially, can shatter the tube. When this happens, it can break your fish tank. So I like sand, pyrex and titanium heaters. Among these, the titanium / stainless tubes are the best because there is NO chance of submerged explosion. Also, if you drain the tank with the heater ON, the heater is unlikely to shatter when its' dry. Instead, they usually have a thermal overload that cuts them off BEFORE damage occurs.
But here's the thing. Titanium and stainless steel heaters are all over the board, pricewise. When the heaters first came out they were VERY expensive. But price competition has reduced the price below $40 for a 500W heater. Sometimes even lower. So if you browse Amazon and grab the first one you see, you will probably overpay.
Advice: You should price shop steel-tube heaters.
THIS IS THE HEATER I LIKE THE MOST, AND IS MADE OF TITANIUM AND IS ADJUSTABLE OUTSIDE THE TANK
What "strength" should you get?
If you get a 400-500W heater it can carry 75 gallons easily. And if you try to put that in a TEN gallon kit, it probably would NOT even fit. But it would work. It would only be on for ten seconds before the tank was toasty.
You should get FIVE WATTS PER GALLON
5gal = 50 watt
10gal = 100 watt
50gal = 500 watt
125 gal = Two of the 500 watt heaters.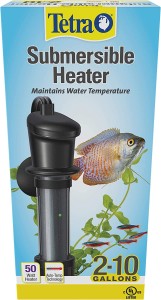 This is the Tetra 'sand filled' (it's sand made of glass beads) heater I like to use in small tanks. It isn't adjustable, but carries the tank at 76-78DF all the time. I found them very reliable.
A Word of Caution
It is VERY very common that when folks are changing water in their tanks, they expose the heater-element and this CAN cause a heater to boil and break. MOST heaters these days have a thermal overload that shuts them off when this happens. But many do NOT. So, turn off or unplug your heaters before a water change.
Turn off or unplug your heaters before a water change.